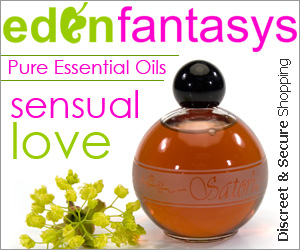 Looking for a great place to get some amazing massage oils, perfumes, and other luxurious bath and body products? If so, make sure you stop by
Eden Fantasys
, and look at their wide array of sensuous products. This site not only caters to the kinkier side of life, but also to the soft and feminine things every girl wants in her life.
There are hundreds of massage items to choose from, including candles, oils, and lotions. Along with massage items, they also carry makeup products,
perfumes
, and skin care items. Best of all, they carry many brands which are cruelty free! That's right, you can look fabulous, feel fabulous, and not have to feel bad about using a product that was tested on animals. They even carry organic and all natural items in their skincare and lips sections!
The fun doesn't stop there however, as there is an amazing bath and shower section stocked full of shower gels, body wash, and other products to pamper yourself with. How lovely would the above
gift set
be to give away at Christmas, or even to receive from a beloved friend? There are many more products just like this waiting for you over at
Eden Fantasys
, so take a few minutes out of your day to look around at their wonderful bath and body products, and maybe indulge your senses in something great.
Love and Lightning Bugs,