In this economy, it can be hard to find economical ways to stay fashionable without spending a fortune. As a full time college student and small business owner, I'm living on little to no income, yet I still get compliments on my wardrobe, hair, and makeup. How do I manage this?
I've teamed up with Maria from Adventures of the Mommy Homemaker, to bring you all our latest tips, tutorials, and weekly fashion finds, so you too can be fashionable and cute while pinching the pennies! Want to join in the fun? We'll have a weekly linky, where you can add your finds to the mix as well! There's nothing better than sharing the frugal fashion!
If you want to link up, or help us spread the word, please feel free to add this button to your weekly Frugal Fashion post.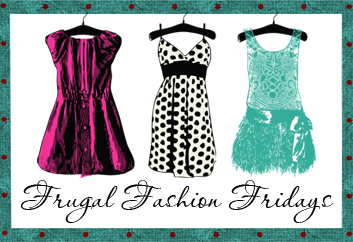 Or this one for 150x150 sidebars:
Every Friday, starting this week, we'll be bringing you the best tips, tricks, and thrifts that we find. Please help us share and promote this event, so we can put the fashion back in frugal!
Love and Lightning Bugs,