I've decided to start a Linky! I have been asked by a few people if they can use the Music Mondays idea, so I thought, why not make a way for everyone to link up and read each others posts? Music Mondays will be posts about a particular song that has really caught your attention and has you thinking. It could be an old song, a new song, foreign song, etc. Please post a link or a video of the song, and your feelings and attitude towards it. Please use the button I created when posting your Music Monday, thank you! The Linky is below my post!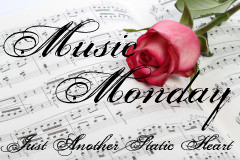 I know she's been all over the radio, and though this song just started airing in my part of the country, I have been listening to it since the Album came out.
Lately I've been listening to this song more and more, as I've been dealing with some drama in my life, centered mostly around rumors about me in the reenacting community. I've never been one to take words on the wind at heart, but after a while, it just gets annoying. That's where this song comes in. Adele herself has said the inspiration for this entire album was the break-up and continuing issues she had with her ex-boyfriend. If she can belt out a song and feel better about herself and the situation, well, so can I. :)
Please feel free to link up yours too!
Love and Lightning Bugs,